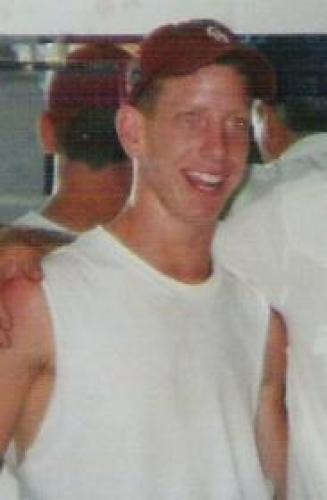 "Some people come into our lives, Leave foot prints on our hearts, And we are never, ever the same again."





This memorial website was created to remember our son Michael Ray Butler who was born in Okla City ,Oklahoma on March 13, 1989 and was killed in a single vehicle crash in Mannford,Oklahoma, while on his way home from school on January 29, 2007 at the age of 17. We feel a great saddness over the loss of your presence, but your memory will forever live in our hearts. We all miss and Love you very much.



Michael was preceded in death by a brother Scott Hamilton,Who was born
February 27,1983 and passed on September 13,1984 at 18 mos.
May you both make Heaven a brighter place, RI P my sons, I'll see you both again
one day! I LOVE and MISS YOU BOTH SO MUCH!!!!!!!!!!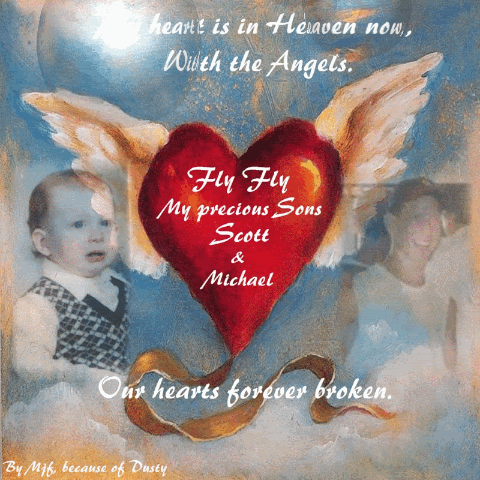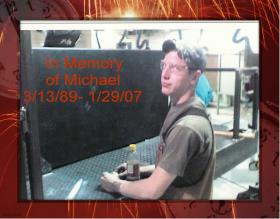 MY TWO ANGELS
MY MOM IS A SURVIVOR

My mom is a survivor; Or so I've heard it said.
But I can hear her crying at night when all others are in bed.

I watch her lay awake at night and go to hold her hand.
She doesn't know I'm with her to help her understand.

But like the sands on the beach that never wash away.....
I watch over my surviving mom; "Who thinks of me each day.

She wears a smile for others.... A smile of disguise!
But through heavens door's I see the tears flowing from her eye's.

My mom tries to cope with death, and to keep my memory alive.
But anyone who knows her, knows it is only her way to survive.

As I watch over my surviving mom through heaven's open door....
I try to tell her that angel's "Protect me now forever more".

I know that doesn't help her... Or ease the burden that she bears
So if you get the chance, go visit her... And show her that you care.

For no matter what she says.... No matter what she feels.
My surviving mom has a broken heart "That time won't ever heal".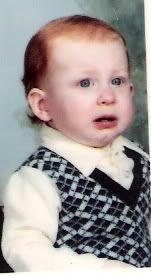 Scott Hamilton Butler Jr.
18 months
~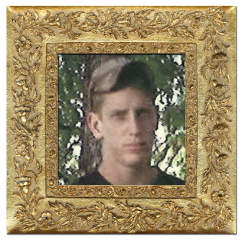 THE BROKEN CHAIN
We little knew that morning,that God was goin to call your name,
In life we loved you dearly, in death we do the same.
It broke our hearts to lose you, you did not go alone,
For part of us went with you, the day God called you home,
You left us peaceful memories,your love is still our guide,
And though we cannot see you, you are always at our side,
Our family chain is broken,and nothing seems the same,
But as God calls us one by one, the chain will link again.

_ Author Unknown
~




WE MISS YOU and LOVE YOU !!!!!!





A Special Angel

There is a special angel in heaven
That was apart of me,that isn't
Where I wanted but were God wanted him to be,
He was here but for A moment,
Like A night time shooting star,
And though he is in heaven, he isn't very far.
He touched the hearts of many like only angels do,
I would've held him every mimute,
If in the end I ever knew,
So I send this special message ,
To heaven up above," Please take care of my
Angels and send them all my love."
.





Gone yet not forgotten,
Although we are apart,
Your spirit lives within me,
Forever in my Heart.

Michael had a smile that could light up any room,
He could brighten up your when you were feeling
down.If you needed help he was always there no
matter the time of day.
Michael loved his family and his friends very much.
He will be missed by everyone who knew him.


When I Must Leave You
"When I must leave you for a little while
Please do not grieve and shed wild tears.
And hug your sorrow through the years,
But start out bravely with a gallant smile.
And for my sake and in my name
Live on and do all things the same.
Feed not your loneliness on empty days,
But fill each waking hour in useful ways.
Reach out your hand in comfort and in cheer
And I in turn will comfort you and hold you near,
And never be afraid to die,
For I am waiting for you in the sky!"



As the spirit soars in flight,
here is a candle for you to light,
and with the flicker of this flame
say a prayer in our Angel's name.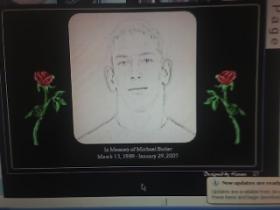 THIS IS FOR YOU BUBBA
I LOVE YOU..........JACOB
I WISH

If I could have a lifetime wish,
A dream that could come true,
I'd pray to God with all my heart
For yesterday and you.
A thousand words can't bring you back,
I know because I've tried,
And neither will a million tears,
I know because I've cried.
You left behind my broken heart,
And happy memories too,
I never wanted memories,
I only wanted you.
A million times I've needed you,
A million times I've cried,
If love alone could've saved you,
You never would have died.
In life I loved you deeply,
In death I love you still.
In my heart you hold a place,
No one else will ever fill
It broke my heart to lose you,
But you did not go alone,
Part of me went with you,
The day God took you home.
Author Unknown


PEOPLE ASK ME HOW I'M DOING AND I SAY THAT I'M OK,
THE FACT IS THAT I'M NOT.....MY PAIN WORSENS EVERY DAY!
I WONDER WHAT IF I HAD SAID,OR ALL THAT COULD'VE BEEN DONE,
IF I HAD ONLY KNOWN YOU'D BE GONE,MY PRECIOUS LOVING SON.
SOME CAN'T SEEM TO UNDERSTAND AND THINK I SHOULD GO ON,
BUT HOW CAN I DO SUCH A THING WHEN A PART OF ME IS GONE.
THEY SAY THAT IT GETS EASIER AND YOUR BURDEN IS LESS TO BARE,
I JUST CAN'T BELIEVE THATS TRUE WHEN ONE YOU LOVED'S NO LONGER THERE.
I PRAY THAT GOD WILL EASE MY MIND AND SHOW ME HOW TO JUST GO ON.
AND GIVE ME BACK THE HEART HE TOOK THE DAY HE CALLED YOU HOME.
ALTHOUGH MY HEART IS BROKEN AND MY TEARS OVERFLOW,
I TRY TO HIDE THE SADDNESS,SO NO ONE WILL EVER KNOW.
PRETENDING'S JUST NOT EASY WHEN YOU KNOW NOT HOW TO SEE
THE REASON YOU ARE HURTING....WHY'S THIS HAPPENING TO ME?
I'LL NEVER SEE YOU GRADUATE FROM SCHOOL OR HAVE CHILDREN OF YOUR OWN.
THE LINK THAT MADE MY LIFE COMPLETE IS NOW FOREVER GONE,
I'LL TRY TO BE MUCH STRONGER AND KNOW THAT YOU'LL LIVE ON.
ALTHOUGH I KNOW YOU'RE THERE WITH GOD, I FEEL SO ALL ALONE.
FROM THIS DAY FORWARD I HAVE TO SEE THAT YOU REALLY NEVER DIED,
FOR AS LONG AS YOU LIVE INSIDE MY HEART YOUR MEMORY'S STILL ALIVE ! ! ! ! !

Written by Dawn Elmore